Back in June, we launched our very first Ginormous Teddy Bears Picnic! This Summer fundraising event was sponsored by Trethowans Solicitors.
Schools, nurseries, workplaces and groups from all over the South, hosted their very own Teddy Bears Picnics from the 5th to 11th of June 2017, to raise funds for our latest appeal #2MillionSteps.
We were overwhelmed with the ingenious ways in which people chose to support us and raise money with a Teddy Bear theme during the week. From Teddy Bear picnics in schools, at festivals and even on a beach in Devon to 'Take your bear to work day' and even charging your furry friends to watch dance classes for a whole week!
BOL Foods fed the campaign and all sign-up's received a BOL foods voucher plus one lucky person won a whole week's worth of vouchers in our competition.
The wonderful Stonehenge Bears donated a traditionally handmade Teddy Bear designed exclusively for The Murray Parish Trust, who now has a new home thanks to our #NameourBear competition. The team voted and Amanda Purdy won the beautiful bear with the name Edgar!
Consultants at UHS – 'Guess the consultant's Teddy Bear'
Yellow Dot Nursery, a group of fifteen nursery schools in Hampshire, joined the picnic across all their nurseries throughout the week. Sarah Parish and James Murray (actors and co-founders) of the Trust attended a very special picnic with the children, parents & staff of the Yellow Dot Kindergarten in Chandlers Ford which was featured on ITV Meridian News. You can watch the feature HERE. The Yellow Dot group then doubled the donations made throughout the week from parents making a grand total of £1700 for The Murray Parish Trust.
The White Horse in Otterbourne, an Ideal Collection venue, hosted a teddy bears picnic as part of their annual summer fete and Alresford Music Festival invited festival goers to dress their teddy bears 'festival style' as well as holding a huge sing-a-long led by our very own Head of Operations Sam Robson on stage.
Donations from this event are still coming in and big plans are afoot for The Ginormous Teddy Bears Picnic 2018 which will run for the whole month of June next year.
Find out more and sign-up to host your very own Teddy Bears Picnic at www.teddybearspicnic.org.uk
Scroll down to see our celebrity sing-a-long video and a special child safety video recorded for us by CBeebies Dr Ranj and find The Ginormous Teddy Bears Picnic on Facebook.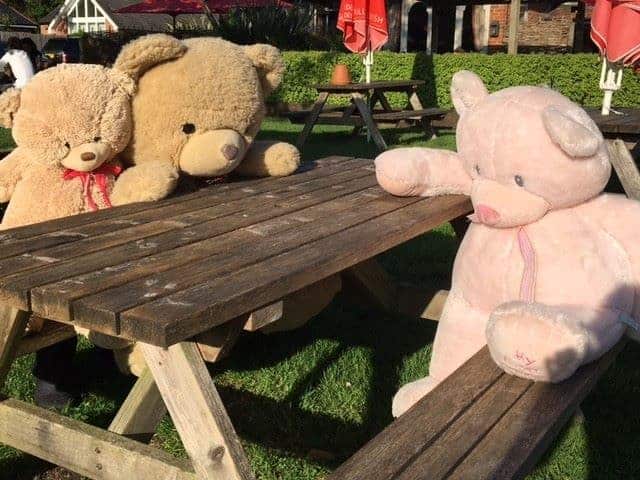 We even asked a bunch of celebrities to sing the famous 'If you go down to the woods today…" song for us which caused quite a sensation. It's not often you see Julie Hesmondalagh hide behind a tree in the woods with a Teddy Bear we think you'll agree.
We also had incredible support from CBeebies 'Get Well Soon' Dr Ranj (TV Personality and Paediatric Doctor) who filmed a very special child safety video for us specifically to promote the event. He also joined the celebrity sing-a-long too.