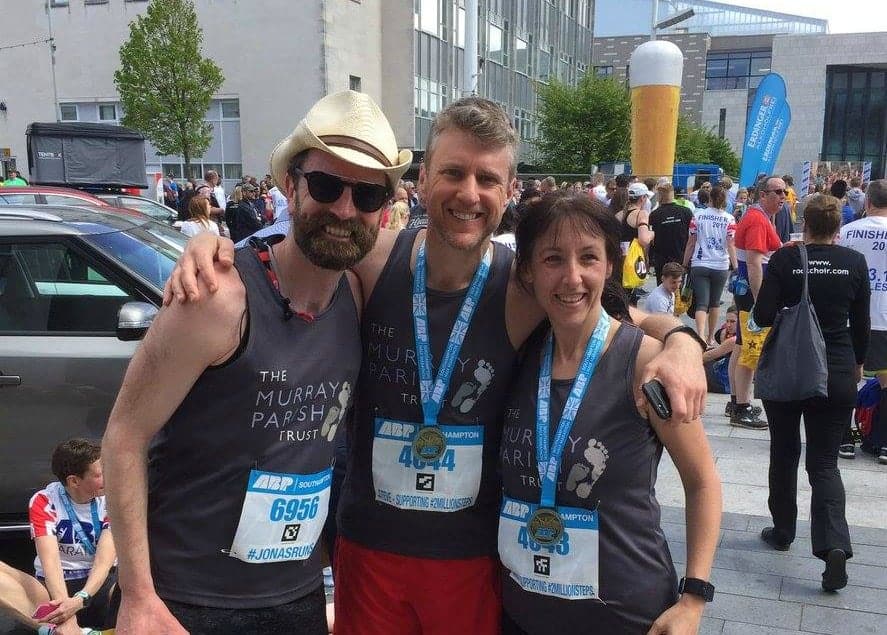 Join 'Team Murray Parish' in Southampton next year and snap up one of our charity places for the ABP Full, Half or 10k races in April 2018.
We are excited to announce that we have a limited number of charity places to give to those who would like to take on a challenge and raise money for our #2MillionSteps appeal which aims to raise £2 million to build a brand-new Children's Trauma centre to be built at Southampton University Hospital, treating critically ill or injured children from across the South of England.
With a new route planned for 2018 the Marathon gives you the chance to run across the Itchen Bridge with a mix of city, coast and parks along the route. Find out more – visit the ABP Southampton Marathon website.
You can run on your own or why not get a group of you together and run as a team?
Running for The Murray Parish Trust
You will receive a Murray Parish running vest. They are pretty cool, raise awareness and help us spot you amongst the other runners!
We will set up a free fundraising page via MyDonate which will be visible on our website. All you need to do is give us a few details and a nice photo and we'll do the rest – you will be able to edit and manage the page as well. Check out our current fundraisers HERE.
We will promote your challenge on our website and across our Social Media Channels. Facebook Twitter & Instagram.
Contact us to sign- up NOW!
Email us at [email protected] and let us know you'd like a charity place in either the Full, Half or 10k races. We will then give you a code to use to get your place and start promoting your story. (A minimum fundraising goal of £300 applies.)
Southampton Marathon 2017
Several people ran the Southampton Half for The Murray Parish Trust in 2017. A group of nurses from Southampton Emergency Department, Jason Barling (Paediatric Consultant at UHS), Matt Spake and Lisa Kemp.
Emma & Steve Holford also took part as part of their #12Challengesin12Months for #2MillionSteps and Jonas Cradock who is attempting to run two million actual steps throughout 2017 enjoyed the race saying;
"I thought the Southampton Half Marathon was a wonderful day. The weather was beautiful (perhaps a little hot for running!) and the course showed off the best of Southampton. The crowds along the route were very supportive and definitely helped me to get up and over the Itchen Bridge!"
Get in touch and start your challenge! Join the event page on Facebook for running tips, updates and more – Click HERE to join.