About The Murray Parish Trust
Working since 2014 to ensure the best medical care for children
"Back in 2009 my husband Jim and I lost our first daughter Ella-Jayne to a congenital heart defect. It was an incredibly distressing, life changing time for us and when we finally recovered from the horror of it all we felt an overpowering need to help the people that had given us the short time we'd had with Ella-Jayne.
The Paediatric Intensive Care Unit in Southampton Hospital is where Ella-Jayne spent almost half of her life, and consequently it became home to us too. During our time at the hospital Jim and I had the privilege to witness first hand this incredible facility in action.
The compassion, professionalism and skill of the clinicians that worked there was awe-inspiring. What was also astounding was how desperately they depended on fundraising to provide all the equipment and bed spaces they needed.
There is only one way to numb the pain of losing a child and that is to help other children. To try and make a difference to their lives and help give them the future they deserve."
Sarah & Jim x
In 2014 Sarah and Jim founded The Murray Parish Trust which is dedicated to the advancement of paediatric emergency medicine across the South of England. The charity ensures that children affected by major trauma can receive the best emergency care as close to home as possible.
In the mid-term, our aim is to better equip University Hospital Southampton, a nationally recognised centre of excellence. In addition to our focus on treating children, we will also be investing in ground breaking research into childhood illness, pioneering equipment and the development of specialist training programmes.
Where the money we raise goes
Since founding The Murray Parish Trust have directed £4,074,000 to innovative projects which transform the future of children's healthcare. This includes funding for a brand new Children's Emergency & Trauma Department, 2 new bed bays for the PICU, a full-time counsellor and a specialist helicopter gurney to transport critically ill infants via Air Ambulance.
This year, we're focusing on innovative projects and services which help to support the mental health of vulnerable young people across the South of England, in response to the devastating effect that the COVID-19 pandemic has had on their mental wellbeing. We have already been able to assist with funding on a number of incredible projects and are constantly looking for new opportunities to make a difference.
As a highly proactive Hampshire-based charity with minimal overheads, as much as 90% of the funds we are raising go directly to this critical project.
Sarah Parish
Founder & Trustee
Sarah works extensively in the film and television industry but dedicates much of her spare time to The Murray Parish Trust. She co-founded the charity with her husband Jim in memory of their late daughter Ella-Jayne, who died of congenital heart failure in 2009.
Together, they have helped raise millions of pounds to advance paediatric medicine across the South of England, funding vital projects at University Hospital Southampton including a dedicated new state of art Children's ED, an expansion to the PICU, and other much-needed equipment and services.
James Murray
Founder & Trustee
Jim similarly combines his TV and film career with working hard to raise funds for The Murray Parish Trust, which he co-founded with his wife Sarah in memory of their late daughter Ella-Jayne.
He is very proud to have helped make a real difference to the care and treatment of children across the Southern region via the projects and facilities which the MPT have funded. He is also a keen abstract artist and a passionate river conservationist, recently founding Activist Anglers.
Jayne George
Chair of Trustees
Jayne George lives in Dorset with her husband Nick, her son and two adopted daughters. She has worked in fundraising for 21 years and is hoping to use her skills and experience to help this wonderful cause make a difference and bring hope to families in their darkest moments.
Jayne's passion for this cause is evident in that she too has experienced the agony of losing a child. Jayne and Nick's daughter, Emily Grace died at only a week old in 1996.
David Collinson
Trustee
David is a Cumbrian by birth but now lives in Hampshire with his wife Nadine, his two daughters and a menagerie of animals. He is a mathematician and actuary by training and has spent a career in the City trying to make sense of pensions and insurance.
He held the role of Partner and Global Head of M&A Services with the actuarial consulting firm Watson Wyatt before moving on to be a key member of the management team that founded and built Pension Insurance Corporation, of the UK's largest private companies. David has also organised challenges, expeditions, films and a wheelchair manufacturing facility under the Wild Wheelchairs Project. David recently co-founded a new business, Experience Hampshire, where he holds the role of Chairman.
David wants to do what he can to help The Murray Parish Trust achieve its goals and improve the care and treatment of children across the South of England.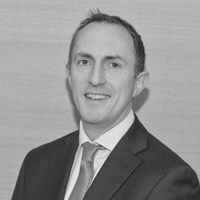 Adam Greville-Collins
Trustee
Adam lives in Hampshire with his wife Henny, their two children and an entire room full of Lego.  He has spent the last two decades working in the Wealth Management industry where he manages investment portfolios for wealthy families, institutions and charitable clients.
Wanting to get more directly involved in giving something positive back to the local community Adam was introduced to Jim and Sarah and completely blown away by their achievements with The Murray Parish Trust.  He is delighted to be part of such a wonderful team who are all working so hard to advance the provision of paediatric medicine to children across the South of England.
Darius Khwaja
Trustee
Darius is a Chief Executive in the higher education and arts sectors. He is experienced in governance, quality and standards, compliance, finance, HR and business transformation. He has led education organisations in public, private and charitable sectors and is the Director of Confetti Institute of Creative Technology London.
Darius co-founded the London Centre of Contemporary Music in 2003. Graduates of the college include Brit Award winning artist Tom Walker. Having led the organisation for 16 years, he orchestrated its sale to a global education group having played a significant role in developing a new £34m property for the organisation.
Darius has worked with VC / PE firms, trade-buyers and high net worth individuals to raise equity investment. He has secured funds from local government, Trusts and Foundations and debt finance from banks. Since 2019, Darius only applies his time to projects with social and environmental aims. He is proud to contribute to the work the Murray Parish Trust do to improve acute healthcare for children.
Nuno Pereira
Trustee
Nuno has over 17 years of experience in Sales and Partnerships. A strategic and hands on leader, with a proven track record in working with start-ups and accelerating their growth, with a strong commercial acumen. Nuno works horizontally supporting various areas such as Sales, Marketing, Partnerships including AMD and Animoca Brands and Investment where Nuno helped raise over £10m to date for Cudo in equity and tokens.
In 2021 Nuno became a private angel investor with 10 investment portfolios that year, and became a Board Trustee to The Murray Parish Trust. Nuno will be able to provide advice on some of the most disruptive technologies such as cryptocurrencies, NFTs, Metaverse and how to leverage them to add value to The Murray Parish Trust.
Dr Freya Pearson
Trustee
Freya is Deputy Chief Medical Officer at University Hospital Southampton (UHS) and Clinical Director of Southampton Children's Hospital. Freya was appointed as a Consultant at UHS in 2007. Before taking up her current senior leadership position, she held a number of roles in education, management and charitable fund raising within UHS alongside her consultant role caring for critically ill babies and their families on the Neonatal Intensive Care Unit.
Freya is delighted to be supporting Jim, Sarah and their colleagues at The Murray Parish Trust in their work to help support advances in medical care for children across the region.
Penelope (Penn) Kirk
Ambassador
Penn was deeply moved by Sarah and Jim's story and ambition when she first heard about it and over the years has loved her varied and eclectic involvement with the MPT. She lives in Winchester and being a local charity and one that works with children, truly inspires her. She has enjoyed so many activities which celebrate the work of The Murray Parish Trust including lobbying Parliament, fund raising, serving teas at the 'Bluebell Walk,' distributing Easter eggs at Highclere Castle, cleaning the 'Hares of Hampshire,' giving talks to local groups about the Trust; the opportunities are endless!
She has worked for over thirty eight years in education, both in the UK and overseas and for twenty five years has been a Head. Now recently retired, she is working independently as an education consultant and inspector. She travels extensively and her aim is to ensure the message about the Trust is heard loud and clear throughout the UK and beyond.
Shadi Ganjavian-Connor
Ambassador
Married to Tim with two young girls, Shadi worked as Head of Communications for the past 20 years for several PLCs and is now enjoying working from her home for international Kickstarter innovators.
Shadi loves nothing more than collaborating and lives by 'alone we go fast, together we go further'. Having summited The Matterhorn raising funds for The Murray Parish Trust, her aim is to continue raising the profile of the charity through inspirational talks sharing some of her experiences, to transforming the way youngsters observe their world, tackle challenges and truly prepare themselves to step out of their comfort zone.
Nick Godfrey
Ambassador
Nick first became engaged with Jim and Sarah's vision in 2011 and in 2014 became one of the founding Trustees of the charity. He is passionately committed to working with this incredible team of people at MPT in delivering their goals and continues to do so through his role as an Ambassador.
Nick has worked from London since leaving the Royal Navy 30 years ago.  Nick operates between the Middle East, Switzerland and North America, raising money for financial institutions from Sovereign Wealth funds, pension funds and family offices.  He has held many Board, Risk and Governance positions both within the UK and outside. Nick lives in Hampshire with his wife and three children (when they are actually home!).
Nadine Collinson
Ambassador
Nadine enjoyed a successful career as a Special Effects Producer working on television commercials and music videos at The Moving Picture Company and
Glassworks, London.
Married to David and after raising their two daughters, Nadine decided to pursue her own artistic journey and now enjoys painting and creating sculpture. Nadine is involved with various charitable endeavors and actively supports projects which bring the arts to vulnerable young people in Hampshire.
The important work of The Murray Parish Trust is very dear to her heart. Nadine is delighted to be working alongside the team and she is eager to raise awareness of the charity and help to realise its inspirational ambitions.
Sam Robson
Head of Operations
Having worked at Sky Sports for 20 years on a wide variety of major sporting events which took her all over Europe and beyond, Sam joined The Murray Parish Trust in 2015. Being actively involved in many community ventures too, and with a combination of a wide and varied skill base in organising and implementing fundraising events plus the ability to work well under pressure, Sam has tackled various roles including marketing, social media and event production. As Head of Operations, Sam oversees the day-to-day running of the charity but is more than happy to don a White Rabbit costume at any opportunity!
Having seen what a huge difference charities make in supporting local healthcare, her aim is to continue to raise awareness of The Murray Parish Trust and help make a difference to the lives of critically ill children in our area.
Karen Edgington
Head of Philanthropy
Karen has worked in fundraising for two decades and held several senior management positions including Head of Fundraising at North Bristol NHS Trust, where she ran a large capital appeal to refurbish the neonatal unit and subsequently won the Institute of Fundraising's Professional Fundraiser of the Year.
She now runs her own fundraising consultancy providing strategic advice, coaching and practical fundraising support, mostly for small and medium sized charities. Her clients include Southampton Hospital Charity where she worked on the Children's Emergency & Trauma Department appeal with us – as well as CHICKS, MS Research Treatment and Education, Penny Brohn UK and bibic. She was a former trustee for Great Western Air Ambulance.
Julie Hindmarch
Community Fundraising Manager
Julie worked for over 25 years in marketing and market research for companies including Kraft Foods and Bacardi Martini. During this period she helped clients including the RNLI, Macmillan Cancer Support and Fairtrade optimise their communications, formulate their fundraising strategies and develop their services to meet key needs.
She is delighted to be working for a charity which is making such a significant difference to the lives and care of children in the South of England, and to be able to use her skills in a variety of ways to support the Trust's goals.
Amy Pickance
Marketing & Social Media Manager
Amy has been working in the marketing industry for 10 years, supporting organisations of all shapes and sizes, from independent start ups to huge international brands. Having worked with various charities and nonprofits in her career so far, she's thrilled to be working with The Murray Parish Trust and helping support their commitment to making a difference to young lives in the South.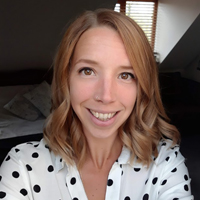 Sarah Hickton
Corporate Partnerships Manager
Sarah has worked in the charity sector for 10 years, working with families in Children Centres to supporting victims of domestic abuse in Women's Refuges. 
She has also taken part in numerous fundraising events, including half marathons, spinathons and, of course, a few bake-offs for local charities.
Sarah is excited to be working with The Murray Parish Trust and to be a part of an amazing team that aims to advance the provision of paediatric medicine to children across the South of England.
Do something amazing today!
Making a donation will help The Murray Parish Trust raise funds to advance the treatment and care of children from across our region and beyond.